Fisherman's Processing Services
It is with tremendous enthusiasm that we announce the formation of "Fisherman's Processing" providing premium quality full fillet, canning, and smoking services to San Diego's sport fishing community. As a brand new, state of the art, fully accredited processing facility, our building, conveniently located only 1.2 miles from Pt. Loma's sport fishing landings, offers all returning sport fishing customers same day custom butchering and packaging of their catch, and all other individual processing services. This amazing new facility not only offers the highest quality processing service available for your catch, but an advanced approach consistent with the premier quality, San Diego Sport fishing experience.



The area surrounding Fisherman's Processing, known as "Liberty Station", offers ample free parking, a beautiful bayside setting along the waterfront, parks and boardwalks attractively developed to benefit community and athletic activities, and a growing shopping and entertainment district featuring a large variety of restaurants, all within easy walking distance of the Fisherman's Processing facility. This recently developed, highly attractive region will compliment customers overall fishing experience by providing convenient access to a wide variety of activities while same day fillet orders are efficiently processed. The first class amenities and standards that San Diego sport fishing anglers enjoy on board their vessels of choice will now continue at the conclusion of their voyage when choosing Fisherman's Processing.

As partner's in this new processing venture, Randy and I are ecstatic to be offering an elevated standard of service to the San Diego Sport fishing fleet and Royal Star customers. Despite our many years of support for existing processing venues, that still continues today, we recognized a need for quicker turn times on same day product, and an increasing demand to diffuse dockside congestion on certain days when multiple long range vessels arrive. Our solution to this growing challenge for long range anglers is to offer a new, visionary processing venue presenting standards consistent with our core business values and principals in customer satisfaction and service. By broadening the choices San Diego anglers have to complete their fish processing, we understand that the most important component of successful sport fishing venues — the customers, will benefit in every respect.

To this end all San Diego sport fishing anglers, and especially Royal Star anglers, will be well served as we now have a direct influence on how your catch will be maintained and processed following your voyage. Royal Star customers electing to use Fisherman's Processing will now enjoy the ability to complete their processing orders on board Royal Star before their voyage returns! No more waiting in line, no more pushing carts, no more fish on the sidewalk to be divided. Royal Star angler's processing orders with Fisherman's Processing will be offloaded into totes filled with seawater and ice, transported directly to the processing facility, then cleaned and packaged to your specifications. Anglers using Fisherman's Processing will enjoy the ability to retrieve both their processed fillet and smoking orders at the Fisherman's Processing facility only a quick, five minute drive from Fisherman's Landing. This opportunity, unique to Royal Star, will streamline the day of arrival for customers, and make the return of their voyage an experience they appreciate.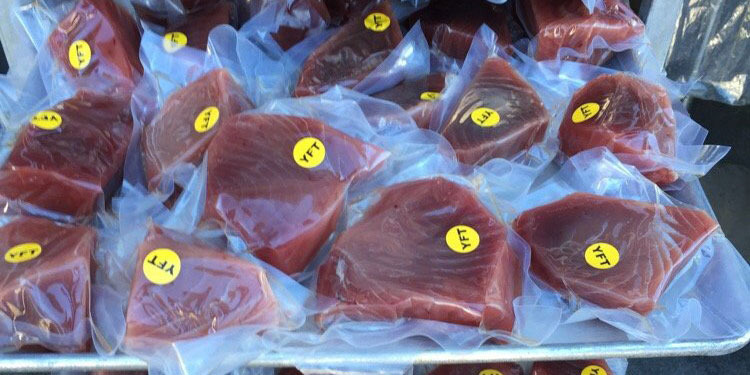 For San Diego's private boaters, Fisherman's Processing is the first and only processing venue to offer dockside service to small boaters. With a conveniently located small pier located adjacent our building, small boaters will enjoy the ability to stop in while still on their vessels, offload their catch, and return later to retrieve their custom filleted and packaged product with their boat loaded on the trailer, or simply on their way home. This incredibly convenient option will enable small boat anglers to enjoy their day of fishing without the added effort of cleaning their catch following a long day on the water. Additionally, full processing services will be available to six pack and private vessels with home berths in San Diego bay marina's. Convenient pick-up of product will be arranged for these anglers by either land or water.

Taking the business of San Diego sport fish processing to the next level, we are extremely enthusiastic about our new processing venture. Managing partner Sean Sebring boasts over twenty-five years of experience on the sport fishing waterfront providing high quality service to customers on all arriving vessels for many seasons. With a reputation for efficient, professional business focusing on customer service and satisfaction, we are highly optimistic that Fisherman's Processing will exceed all of our customer's expectations under Sean's direction.

With Randy Toussaint and I as additional partners in this new venture, customers are assured that individuals with a life investment in sport fishing are behind their choice of processing services. Our collective reputations, built on customer satisfaction, attention to detail, and impeccable, professional standards, are a foundation sport fishing anglers can be certain guarantee a fish processing experience unmatched in quality and satisfaction.

Since opening in May of 2010 we have delivered a processing venue and level of service unrivaled in San Diego! We'll see you on Royal Star or down around the docks this upcoming season. Good Luck fishing and our most sincere gratitude in advance for your support of "Fisherman's Processing."


Tim Ekstrom
Randy Toussaint
Owners/Captains M/V Royal Star