About Royal Star Sportfishing
Welcome aboard Royal Star Sportfishing, the most modern and luxurious 92 foot long range sport fishing vessel in the San Diego fleet. Royal Star Sportfishing was designed and built to cater to the fisherman searching for the optimum in fishing space. Our limited passenger load offers a comfortable approach to long range fishing.

Once on board, you will benefit from her unique features which include:
12 spacious air conditioned staterooms with cedar lined closets and drawer space. All beds are 7 feet in length.
5 heads and 4 showers for your convenience.
A unique, fully air conditioned galley with a comfortable lounge and entertainment system. Our dining area creates a relaxed, congenial atmosphere perfect for unwinding after a long day of fishing.
The most modern in electronics including 24 hour satellite telephone communications, 4 Global Positioning Systems with computer color plotter, 2 radars, multiple radios, including 2 single sidebands, 2 VHF's and others for your safety.
State of the art fish locating equipment including Furuno and Wesmar color side scanning sonar, color fathometers and computerized temperature plotting.
The largest bait, fuel and fish storage capacity of any vessel her size, and with our limited loads, more bait and fish hold space per angler than any comparable vessel.
A superior refrigeration system custom designed to specialize in rapid chilling of your catch. Whether frozen or fresh, optimum temperatures are quickly achieved and maintained ensuring the highest quality product available upon your voyage's return.
The Royal Star Sportfishing is the first to include a well-proven stabilizing system within her design. This system, along with her unique features will ensure our passengers the maximum in travel comfort.
Be Part of the Experience!




Early Summer - June and July


Consistently productive and our best values, these trips coincide with summer warming trends and often intercept the first schools of Albacore, Bluefin tuna, and Yellowfin tuna on their migrations North. Alijos Rocks is the main destination with early conditions favoring Yellowfin Tuna to 100#, the occasional Wahoo, and trophy Yellowtail up to 80#.


Summer


As an introduction to long range fishing a summer 1 1/2 to 3 or 4 day trip will provide you with a detailed glimpse of the fishing action our customers experience, and the comforts and service we offer as part of the complete long range experience.

Excellent fishing for Albacore, Bluefin Tuna, Yellowfin Tuna, Bigeye Tuna, Dorado and Yellowtail is often found in the rich U.S. and Mexican waters. Offshore fishing dominates the action while a visit to one of Baja's coastal or offshore islands is often a part of the journey. Such legendary spots as Isla Guadalupe, Isla San Benitos and Islas Cedros have provided our anglers with a long list of fishing memories as well as scenic splendor.

Fall 10, 11 and 12 Day Trips


For an avid angler seeking variety, our fall ten, eleven and twelve day voyages target every size and species of game fish Southern Baja's fertile waters offer.

Wahoo, Yellowfin Tuna, Marlin, Pargo and Dorado to name a few, challenge and reward our anglers with a caliber and style of fishing available only in these waters. Traditional spots such as Alijos Rocks, Uncle Sam, Thetis and Potato Banks consistently produce incredible catches and continue to dazzle our loyal fall anglers with their marvelous potential. With a long history of success, these trips fill fast so please book early.

Revillagigedo Island Tagging Voyages

Only on Royal Star Sportfishing is this opportunity offered in the world of long range sport fishing! As participants in a genuine scientific expedition, eighteen Royal Star anglers will join scientists from the Inter-American Tropical Tuna Commission and Mexico's Instituto Nacional de Pesca to provide specimens for tagging in the legendary Revillagigedo Island marine reserve.

With the primary objective of capturing and releasing yellowfin tuna and wahoo in the Revillagigedo Island archipelago, these visionary adventures mark the first union between the scientific and sport fishing community in this capacity. Anglers on these adventures will fish within the Revillagigedo Island marine reserve for eight days volunteering their catch to science for tag and release while learning more about the species from the world's foremost experts in the field.

Contributing to the knowledge of yellowfin tuna and wahoo both within and beyond the Revillagigedo reserve, this rare opportunity to support research will be accompanied by the finest sport fishing for yellowfin tuna and wahoo ever known. As no legal fishing traffic has entered the reserve since Royal Star's phenomenal tagging voyages in February and April 2009, opportunities at world class yellowfin tuna and wahoo again promise to be material of legends in the coming years.

If you are a progressive angler ready to give back to the resource we have enjoyed for so many years, these voyages are designed for you. With many more details to share, please call the Royal Star office for details at (619) 224-4764.


Giant Yellowfin Tuna, Winter/Spring


Enter the realm of the toughest, most challenging stand up sport fishery for Giant Yellowfin Tuna as Royal Star ventures to world renowned trophy yellowfin precincts including offshore southern baja and mainland Mexico, Hurricane Bank, and outside the closed, six mile no fishing zone of the legendary Revillagigedo Island reserve. A wealth of rail time and the most consistent opportunity to land that fish of a lifetime separate these voyages from all others as our focus narrows to target the world's toughest game fish in the Eastern Pacific Ocean's most productive tropical zones. With a long history of incredible success, these unique ultra limited load voyages are ideal for the angler seeking adventure and challenge in the amazing world of offshore giant yellowfin tuna fishing.

Royal Star Fresh Fish!


The twenty first century of long range fishing has arrived and Royal Star leads the way as the first San Diego sport fishing vessel EVER to introduce professional, premium quality fish handling and Refrigerated Sea Water storage of our angler's catch. Employing technology long used in commercial fishing applications, we consistently produce the finest quality, sashimi grade product through meticulous care of your catch and pride in our results. Imagine bluefin, yellowfin and bigeye tuna, albacore, wahoo, yellowtail and Dorado all delivered in fresh, premium condition-you have now ventured aboard Royal Star, the most progressive of all San Diego long range sport fishing vessels! When embarking on Royal Star the quality and value of your fishing vacation and your product is our number one priority.

When returning with fresh product, a same day fillet service is always available as Fisherman's Processing meets Royal Star following every voyage. Offering a wide variety of processing options, your delicate fresh fish is placed in insulated totes holding seawater and slush ice and professionally handled from our "RSW" tanks to the Fisherman's Processing facility where experienced processors fillet and vacuum package your premium product in a matter of hours. Other pick up options are also available but anglers wishing to return home with beautiful, fresh product in hand can take advantage of this fantastic service on every Royal Star adventure.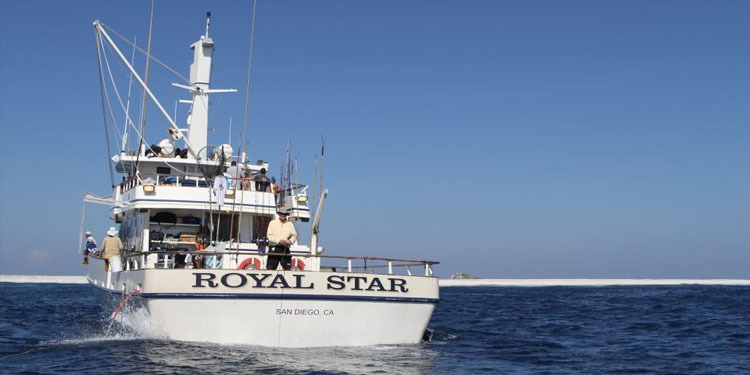 The Royal Star Advantage


As dedicated fishermen with firmly established reputations, Captain's/Owner's Tim Ekstrom, Randy Toussaint, and Brian Sims guarantee every voyage will be led by a proven, experienced professional. Our accomplished catch history and widely recognized first class standards are diligently maintained every trip with limited angler loads and impeccable attention to service. Our innovative approach and contributions to our industry have defined Royal Star as the leader in our field consistently evolving San Diego based long range fishing with our visionary principals. To fish Royal Star is to be on the cutting edge advancing new standards while participating in the finest quality long range sport fishing adventure available today.

Our crew of professional fishermen is an experienced team dedicated to developing your fishing knowledge while providing a safe efficient, accommodating atmosphere on deck. Once on board you will immediately recognize the difference as our distinct approach and extraordinary standards exceed your every expectation. With many years at sea together, the Royal Star crew is UNMATCHED in ability, fish handling and consistent exceptional performance.

Led by chefs Cameron Innis, Nestor Parada and Alex Banuet the Royal Star galley offers fresh ideas and innovative selections in contemporary cuisine. This extraordinary culinary team welcomes anglers from the rigors of fishing with a warm, friendly atmosphere, five star meals and morning and afternoon hors d'oeuvres. Rivaling the finest five star establishments, they take long range dining to the highest level available today.

With our many years experience as leaders in our industry, we take tremendous pride in our operation and continuing improvement. Every member of our crew exudes this pride in their respect, commitment and performance. We invite you to join us and experience an entirely unique Royal Star long range sport fishing adventure.

If one of these Charter Dates fits your schedule, please contact us as many Charters have individual spots available.


For Reservations:
Address:
2838 Garrison Street, San Diego, CA. 92106

Phone:
(619) 224-4764

Web:
www.royalstarsportfishing.com

NOTE:
Based on fuel price of $3.50/gal.
As unpredictable fluctuations in diesel fuel costs impact our price models, we believe in the fairest practice possible when it is necessary to surcharge Royal Star customers. A base price of $3.50 per gallon is included in all published fares. Any substantial increase in fuel cost will be calculated and added to fares using the following formula: price increase x estimated fuel usage during voyage divided by the number of anglers and length of voyage. Calculations will be based on each individual load of diesel purchased when surcharges are necessary.
Advertised fares are cash discounted.
Cost of Mexican Fishing Permits are included in fare.
Cost of Mexican ISR and IVA taxes included in fare on all fly down trips.
DEPOSITS:


All reservations are considered tentative until a 50% deposit is received. Stateroom assignments confirmed upon receipt of 50% deposit. All deposits are non-refundable unless cancellation is received ninety (90) days prior to departure date on trips 1 ½ to 7 days duration and one hundred eighty (180) days prior to departure on trips 8 days and longer. All deposits refunded are subject to a 10% administration fee. Should there be any substantial increase in the cost of fuel or Mexican fishing permits, we may find it necessary to impose a surcharge. If no deposit is received within 2 weeks of reservation, space becomes available to first depositing customer.