Fish Reports
From Royal Star Long-Range Sportfishing
Fish Report for 11-9-2023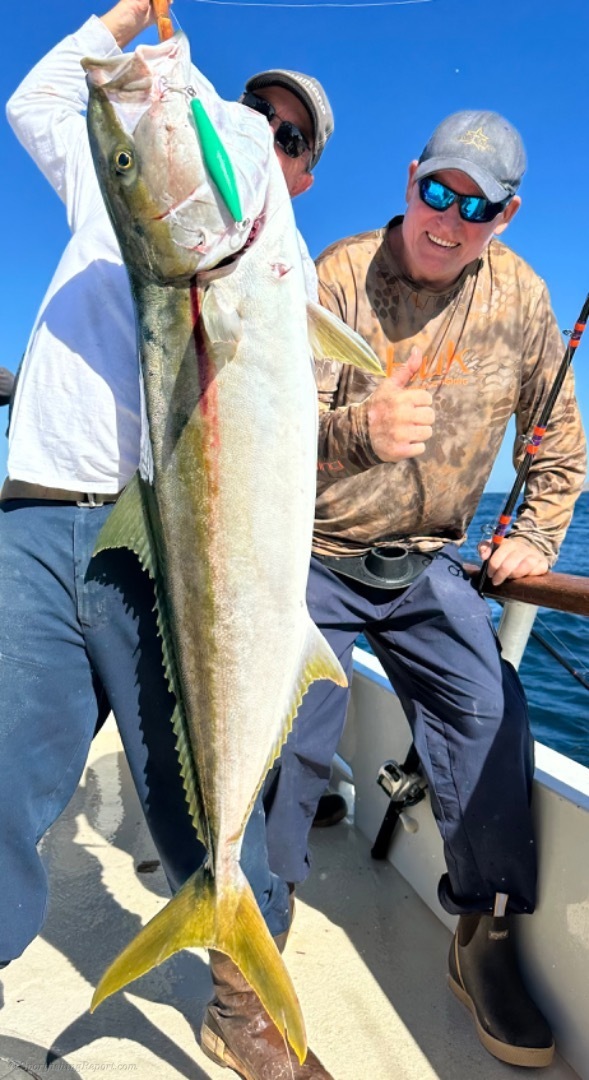 Trophies
11-9-2023
Tim Ekstrom

A pleasant day working up the coast hugging the contour, taking in spectacular scenery, and spot stopping along the way. Avoiding less than ideal weather on the outside with a fruitful harvest "in the hatch" the ultimate objective of finding some trophy grade yellows to angle for was finally met. It took 'til afternoon, and the opportunity was short lived, but the sight of those 40-50 pound home guards fired up and churning around the boat alone got the adrenaline pumping. What a show. Tucked back into the thick kelp catching the "primos" that we did hook was the biggest challenge - that and trying to get a yellow to grab one's offering before it was attacked by the insanely voracious calico bass. In all my years of doing this I have never seen a more insane showing of bass. Waves of them going through the corner like wide open tuna. Brown balls of hundreds rising through the kelp chasing doomed sardines and flying out of the water around the boat for hundreds of yards. Ridiculous.
In the end we triumphed over a few of the trophy yellows and shared plenty of tales of woe. Well worth it. Regardless of where one fell in the equation the memories of that event will not fade soon.
Ending on a perfect note the day concluded in a protected lee where anglers lavished in tranquility enjoying a delicious meal. Afterward the final travel leg north began. Tomorrow will be passed in transit in preparation for our Saturday morning arrival.
Photo honors today again go to Royal Star veteran Tom Honaker who earned this 45 pound class monster the old fashioned way - on the surface iron!
On an admin note I want to remind/alert anglers of the Wednesday November 29th - Saturday December 2nd three day run that still has seven openings. Based on the amount of bluefin and yellowfin still readily available local, huge abundance of yellowfin tuna well within three day range along the coast, and excellent sign of coastal yellowtail, fishing prospects continue to be excellent. If you haven't fished with us in the past this is a fantastic opportunity to get in a late season voyage and experience our distinct brand of long range fishing. Give Tracy, Brian, or I a call in the office or book online. We look forward to fishing with you!